Beautiful Oops
Written and illustrated by Barney Saltzberg
Published by Workman Publishing Company
2010
Even though this book is now 13 years old, I love it and haven't seen anything else quite like it. It's so clever; I've ordered a copy to keep in my personal collection for reference. It's brilliantly engineered and simple. And its message is also an important one:  mistakes are nothing to be upset about but are chances for us to explore and learn from. Each is an opportunity to try something new and exciting.
Saltzberg cleverly illustrates how mistakes contain hidden potential and can become beautiful and interesting. His book features holes, smudges, spills, and a wide range of imperfections on every page.  Each messy, imperfect, or bothersome blemish is turned into something imaginative and wonderful.  Saltzberg takes a hole in the paper and makes it into a fold-out portal to another dimension and turns a dog-eared page into the head of a penguin, challenging the reader to think outside the box when creating.  The book is loaded with interactive elements such as pop-ups, lift-up flaps, overlays, and an accordion telescope that transform blunders into wonders.  Beautiful Oops is a book children will enjoy exploring over and over again.
---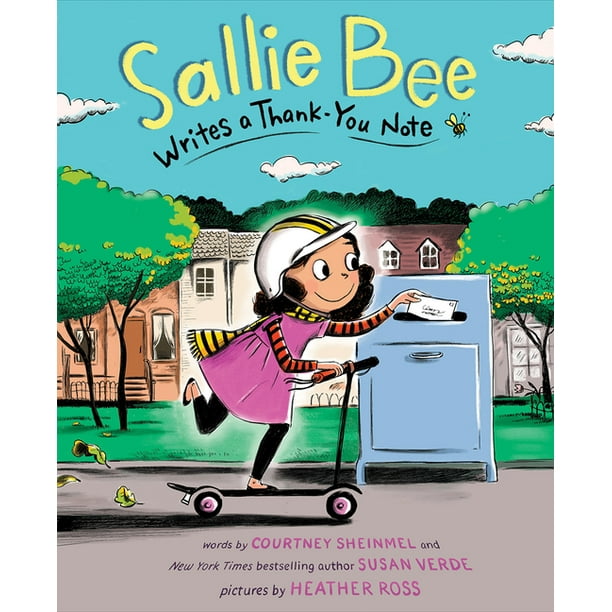 Sallie Bee Writes a Thank You Note
By Courtney Sheinmel and Susan Verde
Illustrated by Heather Ross
Published by Abrams Books for Young Readers
2022
I was so delighted to find this book at my local library because the disappearing etiquette of sending thank-you notes is immense sadness, in my opinion. It's so lovely to see an author address this custom and why it's important to express gratitude to those who do nice things for us.
When Sallie Bee receives a surprise package from her grandmother, she inclines to send Grandma a text saying "Thanks." But, being a child, she doesn't own a phone and must rely on her mother for permission to use her phone. Unfortunately, mom is busy, so as Sallie impatiently waits for her turn to use the phone, she jots down what she wants to text grandma. When Mom finally is free to share the phone, Sallie shares what she wishes to text, and her mother says, "That's a thank-you note. All you have to do is sign your name." Then Mom helps her address an envelope, puts a stamp on the letter, and walks her to the post box to mail it. This experience is new and exciting for Sallie.
As Sallie waits for her letter to be acknowledged and possibly receive something else extraordinary in the mail, she decides she likes the idea of thanking people for the good things they do for her. So she begins to send letters to others in her life. What happens next is a beautiful lesson on what the written expression of gratitude means to people.
I love, love, love this book and highly recommend that this is shared with children as they are encouraged to develop the lifetime habit of expressing gratitude. It's a thoughtful kindness we can all afford to make time for, even if texting seems easier. There's just something magical about getting an actual letter in the mail. And special notes like Sallie wrote can become sweet keepsakes we hold onto to remember others for the rest of our lives.
Sheinmel and Verde have delivered an important message gently and encouragingly, and artist Heather Ross has portrayed a sweet main character that joyfully demonstrates how to open her heart and connect with others.
---
The Grumpy Goat
by Once Upon a Dance
Illustrated by Ethan Roffler
Self-published
2022
Sometimes getting a family pet doesn't turn out as you might expect. For example, when the Saps family adopts a rescued goat, they hope that the new family pet will be a great companion and help them manage the overgrown blackberry bushes in the backyard by eating them since goats are known to eat just about anything, — but not this goat. This goat is grumpy, does not want to interact with family, and goes out of his way to avoid the berry bushes. The family strategy to coax the goat into friendship and cooperation turns into a series of adoptions of other animals – a pig and a llama, which are most loveable but have no effect on the grumpy goat. So now the family has three pets to care for, and none are helpful with the overgrown berry patch. Then one day, the grumpy goat's naughty behavior reveals the reason for his disagreeable nature, and suddenly a solution for a happier relationship and coexistence is clear.
The Grumpy Goat is suitable for children aged 2 to 5 (daycare, preschool, and kindergarten ages.) Parents, caregivers, and educators may use this book to engage restless little ones during reading time and combine it with imaginative play. A unique feature of the book (and all of the books in the "Dance it Out" collection) is the addition of text and sidebars featuring Ballerina Konora, who demonstrates acting out the story with creative movement.
Artist Ethan Roffler's colorful illustrations draw the reader into the story and whimsically portray the Saps family and their menagerie of pets.
---
Little Mole's Christmas Gift
Written by Glenys Nellist
Illustrated by Sally Garland
Published by Beaming Books
2020
This month I'm reviewing a sweet Christmas story that particularly resonated with me. It stirred up my memories of being a young child and wanting to give my parents something wonderful to show them how much I loved them. Sometimes we are disappointed by what we are limited in being able to do, and yet without realizing the things that come naturally to us, such as love, empathy, and sharing, are the greatest things we have to give others.
The story begins with Little Mole walking through his woodland home in winter. Christmas is nearing, and he is searching for the perfect gift for his mother. When he comes upon a huge mushroom, Little Mole knows he's hit the jackpot, and it's sure to be the best gift he's ever given his mother.
With some difficulty, Little Mole plucks the stubborn mushroom from the ground and begins to cart it home. But on the way home, he runs into several woodland friends, each of whom has a problem or need that tugs at Little Mole's heart. With each encounter, Mole ponders how he might help, and the mushroom is always a solution to someone's problem. By the time Mole reaches home, as you would imagine, there isn't much of the mushroom left, and his heart aches, because it is not what he had wished for his Mother's Christmas surprise.
A last, on Christmas Day, Mama Mole opens her gift and is pleased but puzzled by Mole's sad expression. When she questions him, she learns how he shared the mushroom with so many to improve things for the people he cared about. What mother's heart wouldn't swell, knowing the depth of their child's sweet and empathetic nature? She explains this to Little Mole, and he learns that his acts of compassion were, in fact, the greatest thing he could have done, and he has made his mother immensely proud.
---
Moon
Written and illustrated by Alison Oliver
Clarion Books/ Houghton Mifflin Harcourt
2018
Moon is the story of a young girl named Moon, caught up in the monotony of school, homework, sports, and music lessons. Moon dutifully keeps her nose to the grindstone of childhood studies, but she appears to be joyless. All work and no play can make life pretty dull, and soon Moon begins to wonder what would happen if she weren't so dutiful and became a little wilder. In fact, she wonders what it means to be wild at all.
As luck would have it, a shooting star zips by Moon's window one night, luring her to step outside, seeking more stars. But what Moon discovers next is unexpected, furry, and truly wild and tangible… a wolf! Fortunately for Moon, and the reader, the wolf she discovers, happens to be a friendly one, and the two bond quickly, leading into a night of exploring and discovering her own wild nature. Eventually, Moon's mother calls her back home to her old life, but Moon is changed and now knowing what wild means, she finds a way to nurture her inner wild self.
Oliver has chosen a grey, black, white, purple, and teal color palette for her illustrations which so appropriately convey the moods of her story. When Moon is depressed, the overall tone is grey and purple. When she faces mystery, black and white dominate her nighttime foray into the wild. And when Moon becomes her best wild and growing self, she is immersed in playful, happy pastel lavender and greens. This story is a lovely reminder of the importance of making time to push beyond our boundaries and spend time alone exploring, and that time spent in nature can help center us as we pursue being our best selves.
---
Tell Me a Story Babushka
By Carola Schmidt
Illustrated by Anita Barghigiani
Publish date: Oct. 1, 2022 / Reycraft Books, New York
Picture book / 24 pages /$16.95
Themes: Ownvoices / multiculturalism / diversity
Available for purchase on Amazon at: https://mybook.to/TellMeAStoryBabushka
Tell Me A Story Babushka is the moving story of a young Ukrainian girl's trauma, hope, and triumph during a Soviet invasion, presented in fairy tale fashion. The story opens with a modern-day child named Karina watching her grandmother bake bread. Karina requests a fantasy story with a princess and monsters like so many children. Karina's grandmother, "Baba," then cleverly proceeds to engagingly weave events of her own life into the tale– teaching Karina that not all monsters are make-believe and that being a princess can be a matter of perspective. "Babushka's" tale winds up meaning far more to Karina than any fantasy story could, and her appreciation and respect for her grandmother deepens.
Carola Schmidt's story presents the main character bravely dealing with dark situations, and demonstrates how even very young children must sometimes take heroic measures. Her use of nesting Matryoshka dolls in the story is a brilliant metaphor for the child and past lives found in every maturing person. The publication of this picture book is timely as the world watches the Russian invasion of Ukraine unfold again. Sadly as traumatized children of the past survive and move beyond their ordeals, they inevitably grow old, and their past heroic selves become invisible to younger generations. Too often, we dismiss the elderly, not realizing the profound depths of their life experiences.
Anita Barghigiani's illustrations are rich and atmospheric. She beautifully conveys the transitions from living a peaceful country life to being overtaken by menacing forces, to the despair of being lost and imprisoned, then back again to a colorful, peaceful place of existence. She expertly imagined Karina's grandmother as a child, then aged that same character to become "Babushka." There is even a family resemblance between Karina and her Baba.
Matryoshka dolls in all sizes figure prominently on the book's end pages, and strongly resemble Karina and the child version of her grandmother.
This moving story made me think of how lucky I've been to live a life of security and privilege. I have never had to face invaders, famine, separation from family, or other heinous traumas that so many children and families, unfortunately, experience in this world. Tell Me a Story Babushka is a wonderful book about the importance of family history that celebrates our intergenerational connections bridging the past with the present. I recommend that teachers and parents share this book with their children. The story encourages discussions on family histories, current world events, and how we imagine real heroes, young or old.
---
Maple by Lori Nichols (Nancy Paulsen Books/2014)
Maple and Willow Together by Lori Nichols (Nancy Paulsen Books/2014)
Maple and Willow Apart by Lori Nichols (Nancy Paulsen Books/2015)
Maple and Willow's Christmas Tree by Lori Nichols (Nancy Paulsen Books/2016)
I am soon to be a grandmother, again, so this month's blog essay, children's activity, and book review focus on new babies and siblings. Today I am reviewing the sweet Maple and Willow series by author/illustrator Lori Nichols.
In the first book, Maple, we find a couple that has just given birth to a little girl named "Maple," whose parents plant a small maple tree in her honor. As Maple grows, so does her tree and her relationship with it. Maple loves her tree and becomes a nature-loving child that spends a lot of time outdoors playing in and around her tree. But as much as she loves the tree, there are times when Maple wishes she had someone to play and interact with because, as we all know, trees have their limitations. Then one day in spring, Maple discovers a little tree that has sprouted in the shadow of her maple tree. Coincidentally she also learns that her mother is carrying a baby, and she will soon be a sibling. When the baby arrives, Maple has a sister – Willow, and as luck would have it, the little tree growing next to Maple's maple tree is also a willow. Maple develops a nurturing relationship with her baby sister, and the two grow close, sharing a love for their trees, time in the outdoors, and loving one another.
In the second book, Maple and Willow Together, we see Maple and Willow perhaps spending too much time together. And as siblings do, becoming exasperated with one another. Maple tends to take the lead in the relationship with her sister, but Willow displays an independent personality and disregards Maple to follow her own heart. When the girls clash, they are separated for some time-out. But the punishment doesn't last long because the two girls find themselves wanting to play together again, and before long, everything is back to normal. They accept that they can be together but respect each other's need to be different and act and think separately.
My favorite is the third book in the series, Maple and Willow Apart. Maple is now kindergarten age, and after a wonderful summer filled with play, she must leave Willow to attend school in the fall. Maple is very excited about being a big girl and attending school, with many adventures to look forward to. But Willow is left behind, and the days aren't as fun without her big sister. Each day when Maple returns from school, she enthusiastically reports on the events of her day. Willow also gives her sister a report and informs her that she has made a new friend, "Pip," who keeps her company. Maple hears that Willow has learned how to ride a bike from Pip and that Pip has an awesome tree house, sparking some jealousy in Maple.
Finally, Maple confesses to Willow that she misses her time with her when she's at school. So to comfort her big sister, Willow reveals that "Pip" is an acorn she can slip in her pocket and take
to school with her. As Maple spends the day at school with "Pip," she can stay connected to Willow, who remains at home playing with Pip's extensive family of acorns.
The last book in the series is Maple and Willow's Christmas Tree. Here we find the girls preparing for Christmas — excited that their family has decided to purchase a real evergreen tree rather than an artificial one. They travel to a Christmas tree farm and find the perfect tree to take home. Willow is especially excited because it is her turn to place the star on top of the tree. But as the girls decorate the tree, Maple begins to sneeze and sneeze. The girls worry that Maple has an allergy to their new Christmas tree. They go outside to play for a while, and sure enough when outdoors, Maple stops sneezing. However, when Maple returns indoors, she begins to sneeze again. The Christmas tree is removed from the house, and Maple feels terrible. She apologizes to Willow for ruining Christmas, realizing Willow doesn't get to place the star on top of the tree. Willow is not happy about Maple's allergy and agrees that, indeed, Maple has ruined Christmas. Later, after Maple goes to bed, Willow feels guilty for how she responded to Maple, so she plans a surprise. She uses a step ladder in place of a tree and places the Christmas decorations on it instead, then wakes her sister to see the substitute Christmas tree she's created, much to Maple's delight.
Nichols' text and illustrations delightfully portray the closeness and devotion of siblings as they grow. Readers can feel part of the girls' lives while they play, squabble, solve problems, and comfort one another. I recommend these books for littles navigating social-emotional learning with regard to their siblings. The series also makes for good bedtime reading.
---
The Frank Show
Written and illustrated by David Mackintosh
Harper Collins
2012
I recently discovered this hilarious book about a child and his grandparent and I think it's so much fun to read. There is a YouTube video available for those of you who don't want to/ or can't find the book at your local library. YouTube's read-aloud presentation at: https://youtu.be/eIaBG2Gh4Xc is especially enjoyable because of how the narrator changes his voice for the grandfather.
The Frank Show is about a little boy that is supposed to bring a family member to school for show and tell. The main character's parents are unavailable. The only person available to go for his show and tell is his curmudgeonly Grandfather Frank who lives with him. The boy dreads bringing his grandpa to school because he thinks he's difficult, uninteresting, has never done anything exciting and has odd ways. But Grandpa is quite agreeable to going to school with him, and much to the boy's surprise, his grandfather is the absolute best, a most interesting, and beloved guest at the school event. His grandfather is truly interesting and opens up about his diverse life experiences, even wowing the kids with his arm tattoo! Classmates are impressed by so many details of Frank's life. He carries colored combs in his pocket. He keeps a folded $50 bill in his shoe and a double-headed coin in his hip pocket. He led a victorious battle charge while serving in the military, can play the bugle, and hasn't bought a new pair of pants in ten years. Suddenly the boy sees his grandfather with new eyes. Mackintosh beautifully and humorously conveys a truth we don't often understand until we are adults, and that is that our elders have much to share. They are witnesses to the past. Survivors of things that will never be again. And though they may grow old, and have the ailments and ways of aged people, inside there will always exist a former, livelier self who never forgot what it meant to be young exploring a busy and exciting world.
---
Under the Lilacs
By E.B. Goodale
Published by Houghton Mifflin Harcourt
2020
What child doesn't think of running away when feelings get hurt? Under the Lilacs by E.B. Goodale is the story of that very situation. Kate, the main character, is a little girl who feels ignored by her sister and mother. Frustrated, she decides she will run away, but when she does, it's only to the yard next door, where there is a lovely lilac bush to hide beneath. The lilac bush is a perfect place to be concealed and still be able to view her home, keeping a watchful eye on her Mom and sister while hoping that her proximity will make it possible for her family to find her when they notice she is missing.
Kate soon wants to claim, expand, and personalize her hiding place –making it into a home where she will live. So she finds cardboard, tape, and paints and builds herself a tiny house, where she imagines she will continue to live independently. But as she builds, she begins to miss her mother and sister, and her anger toward them slowly evaporates as she begins to make room for them in her home, planning on their return to her life. Under the lilacs is E.B. Goodale's debut picture book, which is also beautifully illustrated by her with lush gouache, watercolors, and pastel crayon. The story will resonate with every child and remind parents that such "run-away" thoughts of children are their first ideas of living life independently, an essential stage of development and sense of self.
---
Zee Grows a Tree
By Elizabeth Rusch
Illustrated by Will Hillenbrand
Published by Candlewick Press
2021
This precious book is so many things. It's a perfect selection for Earth Day/Arbor Day celebrations, has STEM applications for classroom nature study, and in general, is a wonderful growing up story that relates the growth of a child to the growth of a tree.
The main character, Zee, is born to a couple who run a Douglas Fir Christmas Tree farm. On her parent's tree farm, there is a seedling nursery and on the day Zee is born a Douglas Fir Tree sprouts. This seedling becomes Zee's tree and is planted near the house. Over the course of the story, we watch Zee grow up on the tree farm and learn all about raising Douglas Firs and the stages of tree development. Zee also learns to care for her tree and throughout the book, her own growth and development are compared to that of the tree. In fact, they share many similar milestones, such as first haircuts, growth spurts, and weathering difficult times together.
The story's genre is a hybrid —informational fiction, with non-fiction side notes throughout. Readers are introduced to fir tree facts and vocabulary and back-matter talks about alternatives to cutting down fir trees for Christmas.
Will Hillenbrand's delightful watercolor illustrations capture the love of Zee's family, life on a tree farm, and Zee's childhood experiences. I especially love how he portrayed Zee and her parents. Zee has the perfect combination of both her parent's features and I felt I knew this family and was part of their lives.
My husband planted an oak tree the same year we were married, and we took a photograph with it on our wedding day. Each year on our anniversary we visited the tree to see how it had grown. It was a beautiful way to commemorate our marriage and our growth with one another. I love the idea of planting trees in honor of birth dates, marriages, deaths, and other significant moments. Trees can make us feel anchored when navigating life's storms, and hopeful and reflective as we grow.
---
How Do Birds Find Their Way?
By Roma Gann
Illustrated by Paul Mirocha
Published by Harper Collins
1996
Have you ever wondered how migratory birds can travel hundreds or even thousands of miles over the winter and still find their ways back home in the spring? Well, Roma Gann's book, How Do Birds Find Their Way? offers some amazing facts to help you and your little ones understand bird migration.
Each year, millions of migratory birds leave their northern nesting grounds for warmer southern climates to survive over the winter. Some birds travel only a few hundred miles, while others requiring specific habitats will fly thousands of miles. Examples given include the hummingbird, whose journey includes traveling over 500 miles of ocean, and the remarkable Arctic Tern, which travels from Maine to the South Pole. This book highlights the migrations of several specific bird species that make extraordinary trips. Gann explains where they go, habitats they seek, and their unique adaptations that make traveling over great distances possible. In addition, Gann explains how birds use the sun and constellations to orient them in northerly and southerly directions. Birds' bodies are also equipped with magnetic compasses that react to earth's magnetic fields, further directing them. Fun facts like these make How Do Birds Find Their Way a fabulous teaching book for the classroom and offer valuable insights to the nature-oriented child interested in birds.
Paul Mirocha's colored pencil and watercolor illustrations beautifully depict several bird species in their habitats. The book also includes valuable maps and charts that aid in a reader's understanding of the scope of bird migrations. This book is excellent non-fiction appropriate for grades K – 3. Though it is a much older publication, it is still very valuable and available for purchase on Amazon. I highly recommend purchasing it, while you can find it. Though other children's picture books are available on bird migration, they often focus on one specific breed of bird. I like this one because it features several species and speaks in a broader sense.
---
The Love Letter
By Anika Aldamuy Denise
Illustrated by Lucy Ruth Cummins
Published by Harper Collins
2019
The Love Letter by Anika Aldamuy Denise is an endearing story about the accidental discovery of a lost love letter. The story takes place in a forest where we meet three friends, Hedgehog, Rabbit, and Squirrel. One day Hedgehog finds a letter and, upon reading it, discovers it is a love letter. He presumes it is from a secret admirer, who professes their love for him. This notion of being loved overcomes him, changing his behavior and making him "oddly cheerful." Hedgehog becomes noticeably more cheerful with everyone he encounters. Rabbit notices the "oddly cheerful" behavior when she sees her friend, finding it curious.
When Hedgehog leaves, he accidentally drops his letter, which Rabbit finds and reads. Then Rabbit believes Hedgehog wrote the love letter to her. Rabbit, then becomes "oddly helpful" toward everyone. Rabbit next spends time with Squirrel. After departing Squirrel's company, the love letter is lost again, and Squirrel now finds it. Like his friends before him, Squirrel presumes the letter was written for him and he becomes "oddly carefree."
The idea that someone loved them consumed the thoughts of the three friends. Later they all meet in a meadow, and Squirrel pulls out the letter to confront Rabbit about the love letter written for him. But instantly, Rabbit and Hedgehog pipe up, claiming someone wrote the letter for them. An argument ensues, and the note gets torn up in the process. As the three friends squabble, all of a sudden, a tiny mouse appears to say that the letter was his! But who did you write it to, they inquire, and the mouse explains he wrote it for the moon because he is a small creature in a dark forest and the moon was his friend. At this, Hedgehog, Rabbit, and Squirrel cease to bicker and pause to consider how LOVE made them feel and they remember their love for each other and the beautiful friendships they share.
Lucy Ruth Cummins sweetly depicts the story's characters against the cold grey days of winter in a forest. Cummins' imagery and Denise's text warm the heart. The Love Letter is the perfect story for Valentine's Day or any time we need reminding of how love changes us for the better.
---
The Stars Will Still Shine
By Cynthia Rylant
Illustrated by Tiphanie Beeke
Published by Harper Collins
2005
While I try to review children's books that have been published more recently, sometimes I find older ones that are just so precious I think we shouldn't let them become forgotten. This month's book review is for a slightly older publication that spoke to my heart. I wanted to write a post for the beginning of January that celebrates all good things to come in the New Year, yet at the close of 2021, I lost my mother, making it challenging to look forward. And yet, I must. The very title of this sweet book says it all.
No doubt there are other families, such as mine, who are moving bravely into the New Year, while some dark shadows of the last year are still looming over their shoulders. One's past difficulties might include:
illness such as COVID
moving away from a beloved home place, cherished friends, and community
accepting the divorce of parents
loss of a pet or a loved one
But whatever the difficulty is one faces, the soothing lyrical text of this book offers comfort and encourages hope for a brighter tomorrow. Rylant reminds us that the beautiful, wonderous constants in life will continue. We can always look forward to closeness and affection with others or the endless miracles and cycles of the natural world. And illustrator Tiphanie Beeke's sweet watercolor illustrations show us that no one is excluded from this invitation to look forward to more joyous times. Happiness and gratitude for life's endless gifts are available to all ages and races in both rural and urban environments across the globe. This book is written for Pre-K- through 1st-grade audiences; however, its tender message can certainly be appreciated by readers of all ages.
---
A Snowy Owl Story
By Melissa Kim
Illustrated by Jada Fitch
Published by Islandport Press in cooperation with Maine Audubon Society
2015
This beautifully illustrated, easy to read board book geared for readers aged 2 – 7 tells the true story of a young snowy owl that migrated one winter from the Arctic tundra to the U.S. state of Maine. Because of a shortage of lemmings on the tundra, the owl goes in search of food, but flies into unfamiliar territory and enters an abandoned old building in Maine. Town residents soon spot the bird and try to free it from the building, but it won't leave. Then a young woman captures it and releases it into a nearby wildlife area where there is good habitat and it remains to hunt throughout the winter.
The book acquaints the reader with the home habit of snowy owls and explains the reasoning behind snowy owl irruptions (migrations) across the United States.
---
Turkey Trouble
Written by Wendi Silvano
Illustrated by Lee Harper
Published by Two Lions
2009
What happens if a turkey realizes he is intended to become the main course at the Thanksgiving meal? He panics, of course. As the dreaded holiday draws near, a turkey does everything he can think of to hide from farmer Jake. He hides, disguising himself as virtually every other type of farm animal. Turkey considers all the other animals on the farm and disguises himself as a horse, then a cow, then a pig, and finally a rooster. However, each time he disguises himself, the other farm animals recognize him.
When Thanksgiving at last arrives, and farmer Jake is looking to nab Turkey for a meal, Turkey finally has one last brilliant idea. While hiding in the vegetable garden, he realizes he can use the vegetables around him to make a delicious veggie pizza. Then, disguised as a pizza deliveryman, Turkey delivers the pizza to the farmer and his wife, providing them with a delightful alternative to the traditional roasted turkey meal.
Little ones (Pre-K through 2nd grade) will enjoy this playful story and Lee Harper's fun illustrations of Turkey in his clever disguises. All in all, this is a fun read for the Thanksgiving holiday season.
---
The Leaf Thief
Written by Alice Hemming
Illustrated by Nicola Slater
Published by Sourcebooks Jabberwocky
2021
This charmingly illustrated story about a squirrel who becomes alarmed by "his" missing autumn leaves is sure to delight children from ages 2 to 6.
Little squirrel loves the beautifully colored leaves on his tree and enjoys counting out all the red, yellow, and orange leaves on the branches around his home. But he becomes alarmed when he notices leaves coming up short each day that he counts. So he runs to his best friend, a little bird who lives nearby, and asks him who could be stealing his leaves. The patient, but perhaps slightly annoyed Bird, assures squirrel that no one is stealing his leaves. Yet, all around him, Squirrel sees other animals enjoying leaves like those he is missing.
Squirrel repeatedly pesters Bird for information about who might have taken his missing leaves. Finally, Bird explains that the leaf thief is here, everywhere, and yet not visible. The thief is the Wind, blowing the leaves away. Squirrel finally comes to understand how fall weather and autumn leaves work. Soon, winter snow arrives, and again, Squirrel becomes alarmed, demanding to know who took away his grass! This book is fun to read and offers excellent back-matter information to help little ones understand what happens during the changing seasons.
---
A Sick Day for Amos McGee
Written by Philip C. Stead
Illustrated by Erin E. Stead
Published by Roaring Book Press
2010
Amos McGee is an elderly man who faithfully and cheerfully awakens each day to take the Number 5 bus to his job at the zoo. He enjoys daily rituals with his friends, the elephant, rhinoceros, penguin, owl, and tortoise as a zookeeper. The animals love Amos for his faithfulness and companionship. Amos knows just the right thing to do with each animal. With the elephant, he plays chess. Tortoise enjoys racing him. And for owl, Amos knows he is afraid of the dark, so he reads him a story at sunset to comfort him.
But one day, Amos doesn't show up for work, and his animal friends become concerned. They wait and wait, then decide to take the Number 5 bus in search of Amos. When they arrive at his house, they discover he is under the weather, and now it is their turn to care for Amos. They really don't know how to nurse him to health, but they offer to be and do what they know best. They spend time with him, comforting Amos, engaging him in distracting activities, and generally waiting out his illness until he feels better.
A Sick Day for Amos McGee is a beautiful and subtle story about the love and compassion we can offer someone we care about who is going through a rough patch. Sometimes we can feel helpless when we want to make things better for someone we love, and we may feel we lack the skills to do so. But as Philip Stead's story shows, we all possess the ability to be kind, patient, and present for someone. These skills alone can provide tremendous comfort. Stead's sweet story is tenderly illustrated by his wife Erin Stead, who used woodcuts and oil ink to bring the characters to life. She received a Caldecott Award for her illustrations.
---
Little Boo
Written by Stephen Wunderli
Illustrated by Tim Zeltner
Published by Henry Holt & Co.
2016
This clever story wonderfully describes and illustrates how a pumpkin seed grows from a seed to become a Jack-O-Lantern. Little Boo is a pumpkin seed that is anxious to be grown up and scare things. But despite his efforts, he is too little and unable to frighten the things he encounters. Wind watches over Little Boo and says it's not yet time to scare. Nurturing the tiny seed, Wind protects the seed by blowing soil over it and making Little Boo sleep in the earth over winter, until spring when he sprouts and begins to grow. The reader sees how a pumpkin develops by following its growth from seedling to mature, orange pumpkin. Little Boo's desire and impatience to grow up is something every child will relate to.
Zeltner's illustrations are bright, swirly, happy, and atmospheric, drawing the reader into Little Boo's world. His landscapes are mystical, dancing, and undulating places that somewhat remind me how Thomas Hart Benton depicted land and people flowing and in motion.
Little Boo is the perfect story to share with children between the ages of 4 and 7 during October.
---
On The Night of the Shooting Star
By Amy Hest
Illustrated by Jenni Desmond
Published by Candlewick
2017
On the Night of the Shooting Star is the story of Bunny and Dog, who are neighbors that never speak or interact with one another. They live very parallel lives, and within clear view of one another, yet neither one ever reaches out to the other. We see the characters curious about one another as they watch each other from their windows. Yet, the reader can't be sure if the two never speak because of shyness, distrust, or an intense desire to be left alone.
Bunny and Dog go about the neat, tidy, and somewhat monotonous business of their lives and seem to be content. It is the reader who is left feeling and knowing that maybe there could be more. Then one night, when both Bunny and Dog seem to be sleepless, they see a shooting star. It becomes clear that this fantastic phenomenon is something they have unexpectedly experienced together and quietly reach out to share and embrace what has brought them together.
It is a sweet story, told in few words and illustrated with colorful and engaging mixed media images that draw the reader into examining the homes and lives of the characters. I love the messages hidden in this book. 1.) That it's quite okay and even satisfying to be a loner and 2.) Taking the risk and opening oneself up to friendship can make life even sweeter.
---
Truman
by Jean Reidy
Illustrated by Lucy Ruth Cummins
Published by Atheneum Books for Young Readers
2019
This precious best-selling book is perfect for back-to-school season and children who may be going to school for the first time. The unique spin in this first day of school book is not about the anxiety of attending school from a child's perspective but from the beloved pet left at home when the child leaves for school.
The story opens with a little tortoise named Truman and "his girl" Sarah, enjoying each other's quiet company in their apartment in the city. Truman loves his Sarah, and Sarah loves her Truman. But one day, Truman notices Sarah is behaving differently. She feeds him a little extra, puts a bow in her hair, slips into her very large backpack, then kisses him and tells him to be brave. Then, from the window, Truman sees Sarah board the #11 bus heading south, and he is filled with panic, as she's never done this before.
Though she's stepped out of the apartment before, things are different this time when she doesn't return for "1000 tortoise hours." Truman decides to take matters into his own hands. He manages to escape his aquarium and wander about their apartment, which is a herculean task. He is proud of his bravery but realizes he doesn't know where to go once he leaves the apartment. Truman persists despite his smallness and lack of understanding, and the daunting problem of finding Sarah in a great big world.
This wonderful story, sweetly illustrated by Ruth Cummins, makes me recall our pet dog, Fern. Each day Fern watched our daughter board the school bus and faithfully waited for her return. Then when the school bus returned and was a half-mile away, Fern would run to meet the bus and chase it all the way back home, elated to have "her girl" come home. This book reminds us that when a child heads to school, younger siblings, pets, or parents often wonder, worry, and wait 1000 tortoise hours until their little one returns.
---
School's First Day of School
By Adam Rex
Illustrated by Christian Robinson
Published by Scholastic Inc.
2018
This back-to-school season book puts a unique spin on the whole issue of school jitters. Of course, there are many books written for children who might be apprehensive about entering kindergarten. But author Adam Rex offers a different perspective on first days at school by making the story's main character the school itself.
Frederick Douglass Elementary School is a brand new school, carefully built and prepared for swarms of children, unbeknownst to the school. The school is unsure of what lies ahead. Still, its only friend, the janitor, who maintains it, offers some explanation and gentle reassurance. Rex's text invites readers to imagine being the new school and how it would feel to open your doors to students for the first time.
The school experiences some anxiety. And there are unsettled feelings over some children that hate going to school and an unexpected incident with a fire alarm. But, after a while, the school seems to understand what going to school is all about. When one reluctant child eventually changes her view of the school, the school also embraces the child. It's a charming book that helps the reader feel empathy for the school. The underlying message, in my opinion, is that the school is there for you, to nurture you, and wants to be your friend.
All in all, the book presents a good message for little ones, about to be dropped off at a big building full of strangers and not knowing what to expect. I also really enjoyed Christian Robinson's collage illustrations. His simple, child-like imagery is cheerful, friendly and makes the story even more assessable to children reading the book.
---
Honeybee: The Busy Life of Apis Mellifera
By Candace Fleming
Illustrated by Eric Rohmann
Published by Neal Porter Books, Holiday House Publishing Inc.
2020
I am a beekeeper. So, of course, I enjoy reading about bees, whether the books are for adults or children. In recent years there has been significant attention paid to the importance of pollinators, and honeybees have become favorite topics among children's non-fiction nature books. There are oodles of kid's books about bees. But THIS book tops them all. It is the absolute best among them and a must-read for children, adults, and anyone wanting to know or teach about honeybees.
This book by the award-winning team of Candace Fleming (author) and husband Eric Rohmann (Illustrator) deserves the many accolades and 23 awards and honors bestowed upon it last year.
The story opens with the hatching of a honeybee, Apis Mellifera, or Apis for short. Fleming uses lyrical language to tell the story of Apis' development and the various roles in her brief 35-day life span. A honeybee's life is nothing but toil and dedication to the hive's survival and the making of honey.
After Apis hatches, she will:
help to clean the hive
tend the larvae nursery
feed and groom the queen bee
build wax comb
receive and process nectar into honey
defend the hive from robbers
forage for nectar
distribute pollen
report on nectar sources to other bees in her colony
and, keep on gathering nectar until she ultimately drops to the ground.
By the end of her life, she will have traveled approximately 500 miles, visited 30,000 flowers, and helped to produce 1/12 of a teaspoon of honey. Fleming packs her story full of facts but in such a personal and engaging way. Readers will be immediately drawn into the book as witnesses to hatching and subsequent events the honeybee faces. By the end of the book, I wept, grateful for these magnificent little heroes we take for granted.
Eric Rohmann's fabulous painted illustrations beautifully and truthfully capture the stages and significance of Apis' life. The book also features a wonderful centerfold, highlighting Apis Mellifera's first flight over a prairie. No detail in a honeybee's life cycle has been missed or under-explained in Honeybee. The book's back matter offers further information about honeybee anatomy, research, conservation, and additional recommended resources. The magic of a honeybee's life is perfectly, succinctly, poetically, and dramatically conveyed in this gorgeous book.
---
Over and Under the Pond
By Kate Messner
Illustrated by Christopher Silas Neal
2017
Chronicle Books
Books by Kate Messner are always high on my favorites list, and Over and Under the Pond is one I particularly love. It reminds me of so many times that my husband and I have spent canoeing along rivers. The story follows a mother and son on a quiet canoe ride. While gliding across the waters, they discover all the diverse elements of the ecosystem around them, noting the plants and animals living above and below the water's surface. Children will love peeking into the various animal realms to see creatures as they dive, paddle, hunt, forage, and nest. And will feel that they, too, are enjoying the canoe ride. The author's beautiful prose is enjoyable to read, and the illustrations are equally delightful. This book makes a relaxing bedtime read but is also highly useful in the classroom for educators of grades K -4, seeking stories about environments.
The back of the book includes offers additional illustrated background material on animals found in pond habitats.
Over and Under the Pond is the third in a series of five books by Messner and Neal that teach about habitats from multiple perspectives. Their other books include: Over and Under the Snow (2014), Up in the Garden and Down in the Dirt (2017), Over and Under the Rainforest (2020), and most recently, Over and Under the Canyon (2021).
---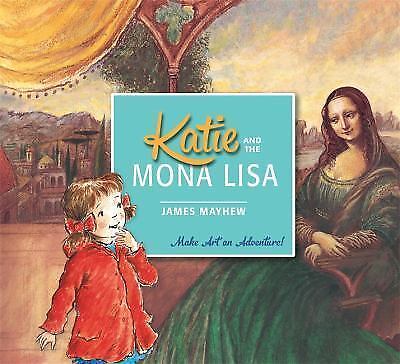 Katie and the Mona Lisa
By James Mayhew
Published by Orchard Books
2016
In this delightful book by James Mayhew, a little girl named Katie goes with her grandmother to visit an art museum. There she sees the Mona Lisa painting by Leonardo Da Vinci. Katie is left alone for a bit with the famous painting and while studying Mona Lisa's expression, is surprised when Mona Lisa speaks to her and invites her into the painting. Katie gets the idea to ask Mona Lisa to step out of the picture with her and into other paintings. Together, they explore the works of other Renaissance artists and find themselves jumping from one situation to another.
Mayhew's tale of Katie and Mona's exploits very cleverly exposes the reader to other great masterpieces of art, ideas, and scenes from the past. In addition to Leonardo Da Vinci's "Mona Lisa," readers of this book will learn about "Primavera" by Sandro Botticelli and "The Lion" by Vittore Carpaccio. Mayhew has written a total of 13 art stories with his Katie character. Each book teaches about iconic masterpieces and make a beautiful collection for introducing children to art history.
---
17 THINGS I'M NOT ALLOWED TO DO ANYMORE
By Jenny Offill, illustrated by Nancy Carpenter
Dragonfly Books, New York
2007
Golly, this book is fun. I can only imagine the giggles of children reading this story. I know I thoroughly enjoyed the text and hilarious illustrations. This fun account of a highly mischievous girl tells of the outrageous things she's done that she is no longer permitted to do. She staples her brother's hair to his pillow and freezes a dead fly in an ice cube tray. She even tells her classmates she owns 100 beavers.
The collage illustrations wonderfully capture the main character's antics and how she delights in tormenting her younger brother and her mother. And the author is spot-on in her development of this particular character's unique personality, curiosity, and unruly behavior. Every child has crazy notions of experimenting with the what-ifs – What if I refuse this food? What if I tell this lie? What if I'm a daredevil? Testing boundaries and adult tolerance go with the territory of being a child. Although I think some children are more of a challenge than others.
This was a delightful book and is sure to be beloved in families. A fun read for children aged 4 to 10! Offill is also the author of the book 11 EXPERIMENTS THAT FAILED.
---
When Grandma Gives You A Lemon Tree
By Jamie L.B. Deenihan
Illustrated by Lorraine Rocha
Sterling Children's Books, N.Y.
2019
I couldn't resist checking out this book because I identified with the title. I'm the kind of grandma that would give her granddaughter a lemon tree, even when no such thing would ever be on her list of wishes.
A little girl wishes for particular items for her birthday in this sweet story. But does Grandma get her any of these? No! Grandma appears to be out of touch with what little girls want and presents her granddaughter with a lemon tree. The child wrestles with containing her feelings of disappointment. Still, out of respect for her grandma, she dutifully cares for the plant. In doing so, she learns the art of growing things. She finds enjoyment and fulfillment in the responsibility of raising something. She soon forgets about the playthings she'd wanted and develops a passion for gardening, which other children in the neighborhood notice.
When the lemon tree begins to bear fruit, she establishes a lemonade stand business and makes money – therefore being rewarded with her first job experience. Soon she has earned enough money to purchase the toys she'd desired. But does she? The illustrations show her heading into a big box store like Lowes or Home Depot or a Walmart, and we see her near the toys. But surprise! She exits the store with more plants and gardening tools.
At the end of the story, we see that her gardening passion has spread. Together she and the other neighborhood children work to transform their world with beautiful gardens in which to play. Grandma's gift of the lemon tree was a gift that kept on giving, and we suspect she knew what she was doing all along.
Cheerful lemony illustrations are provided by Lorraine Rocha, who uses clever humor throughout, to convey how the main character feels about receiving a lemon tree and how her attitude is transformed.
Children ages 5 to 8 will find this story enjoyable.
---
Backpack Explorer: On the Nature Trail
By Kathleen Yale
Illustrated by Oana Befort, Jessica Armstrong, and Kimberly Stoney
Storey Publishing LLC, Massachusetts
2018
On a recent visit to my local bookstore, I was perusing children's books on nature exploration. I happen to be writing a couple of my own on this subject matter. And I always like to see what else is on the market and how these books differ. When I picked up this book, the sales clerk said, "We can hardly keep that one on the shelf." So, of course, I wanted to see what it was all about.
With On the Nature Trail, Kathleen Yale invites the reader to explore the natural environment around them and provides brief overviews on leaves, trees, birds, small mammals, insects, flowers, seeds, spiders, and mushrooms. Interspersed throughout the book are nature craft activities, games, checklists to extend their learning experiences. In addition, there are tips on hiking etiquette and what to bring along on an outdoor adventure. Stickers and a small magnifying glass are provided.
The book is illustrated with a combination of illustrations and graphics provided by Dana Befort, Jessica Armstrong, and Kimberly Stoney, cleverly interwoven with some outstanding nature photography obtained from royalty-free public photo sources such as Alamy, I-Stock, and Shutterstock. This book would make a great gift for children aged 4 to 7 to enjoy during their summer vacation. It will make children and their families feel like they are attending summer camp together and encourages many hours of fun, exploration, and outdoor play.
---
---
Home in the Woods
By Eliza Wheeler
2019
Published by Nancy Paulson Books, an imprint of Penguin Random House LLC, N.Y.
Home in the Woods is one of the dearest children's books and indeed should not be limited to being read by children. The book really resonated with me. It deals with subject matter my own family is well-versed in – poverty, the death of a parent, the Great Depression, and making the most out of what you have.
This book was inspired by the true story of the author's grandmother, who came from a family of six children. They lived in northern Wisconsin during the Great Depression and were evicted from their home. Wheeler's great grandfather moved the family to an abandoned shack in the woods but wound up dying of cancer and never lived in the shack with them. It was up to his wife and their children to make the shack into a home and survive.
The story is told from the perspective of Marvel, the author's grandmother when she was young and living through the experience. The tale begins with Marvel stating that her father lives with the angels and the family must find a new home. We see a mother and her children, who range in age from infant to teen, wandering a country road. They carry all their earthly belongings, which seem barely enough to accommodate the family's needs.
They come upon a dilapidated tarpaper-covered shack in the woods. The narrator, Marvel, describes how the shack makes her feel so empty inside. But her mother encourages them all by saying, "You never know what treasures we'll find."
The family pulled together as a team and set to work cleaning and repairing the shack, unpacking their few belongings, and setting up the house. They explore its spaces as well as the surrounding woods, creek, and fields. Over time, and always together, they discover the hidden gems of the land, such as berries and fish. They labor together, gathering and chopping firewood, washing laundry, foraging, and gardening. Though their wants are significant, they keep their desires to themselves. They reinforce one another by focusing on the intangible blessings they can enjoy, such as:
learning to sew a quilt
learning to read and make up stories
working together to find enough food to cook into delicious meals.
Together they face the harsh winter of Northern Wisconsin, deal with their grief over losing their father, and find hope for the future.
There are just so many beautiful messages and examples in this book about gratitude and what really matters in life. And making this book even more beautiful are the wonderful watercolor illustrations also created by Eliza Wheeler. Each page is filled with gorgeous scenery and details to study. The Author's Note at the end of the book is also quite special, telling the story of the real grandma Marvel, and a family photograph that inspired the story. This book is an absolute treasure that makes me want to delve more and more into my own family history. It would be great to read with children and inspire them to learn more about their own family history.
The Tea Party in the Woods
by Akiko Miyakoshi
2015
Kids Can Press
This week I've chosen to review The Tea Party in the Woods by Akiko Miyakoshi. I feel it ties into my latest blog post, A World of Watchers, about never truly being alone.
The book was a surprise to me, with elements of Red Riding Hood, Brave Irene, and Alice, and Wonderland all rolled into one.
The story begins in the home of a little girl named Kikko, whose mother has baked a pie for Grandmother, who Kikko's father intends to visit. But Father leaves for Grandmother's house and forgets to take the pie. Kikko volunteers to take the pie and catch up with her father on his walk to Grandmother's house. Grandmother lives in a home in the woods. The ground is snow-covered, and Kikko tries to hurry, walking through the snow while carrying the pie. The woods are large and quiet, and she hears only the sound of her footsteps in the snow. For a long, while she does not see her father, and you sense that Kikko might be a little daunted by the size of the woods, distance to Grandmother's house, and her sense of "aloneness."
Finally, Kikko sees the figure of a man in a hat on the trail ahead and presumes it is her father. She tries to catch up but falls and smashes the pie. Upset, she picks up the box with the smashed pie and proceeds anyway. She comes to a huge home in the woods. She is unfamiliar with it. It is not Grandmother's house, but the man she has been following goes into that house. So Kikko sneaks up and looks through a window. She discovers that the man was not her father but rather a bear in a man's coat and hat. The bear is being greeted by a deer dressed as a woman. Just then, a lamb walks up to the house and asks if Kikko is there for the Tea Party and invites her in.
Kikko walks in to discover a large and diverse group of animals that have assembled for the Tea Party, and they are as stunned to see Kikko as she is to see them. Even so, they are gracious and mannerly and invite her to have tea. She enjoys being with them, and they ask why she is alone in the woods. She explains then shows them the smashed pie and explains she was to deliver the gift but has ruined it. The animals then have the idea to replace the damaged pie with sample slices of all the desserts they have at their Tea Party. They put together a new dessert box for Kikko to take to Grandmothers. They then decide to leave their Tea Party and walk with Kikko to her Grandmother's house. Her walk with the animals is happy and joyful, and she is safe and in good company.
When she arrives at Grandmothers, the animals magically disappear. She joins her Grandmother and Father, who are surprised to see her and to learn that she walked through the woods by herself. Kikko remarks that when you are in the woods, you are never really alone. And even though she now cannot see all her animal friends, she knows they are still there and can hear her. I love the sweet illustrations done in charcoal and the lovely message that we are never alone.
---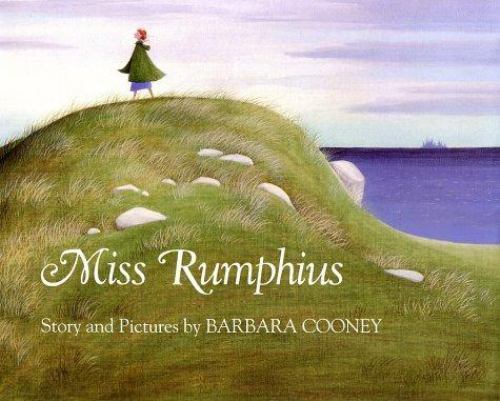 Miss Rumphius
by Barbara Cooney
1982
Viking Books
To tie into my blog post about May Day, celebrating spring, and giving back, I decided to write a review of the book Miss Rumphius by Barbara Cooney. This book was first published by Viking Books in 1982. It is a classic that will be enjoyed for many, many years to come, not just for the beautiful story and message but also for the intricate illustrations.
The story is of a young woman, "Miss Rumphius," who was told as a girl by her grandfather to see the world, come back home, and leave something beautiful. His wise words stuck were ingrained in her memory. She grew up, never married, and became a librarian, serving her community by serving up books until she retired. Then she decided to go on fabulous trips to see far away wonders and make memories of interesting people and events. At one point on her travels, Miss Rumphius has an injury to her back, which sends her back home for a long recovery. During that time, she realizes she still needs to fulfill the last part of her grandfather's instructions for life – leave something beautiful.
When Miss Rumphius is no longer bedridden, she can wander the hillsides of the Maine coast that she lives on and collect seeds from the beautiful lupine flowers that bloom there. Over time she scatters seeds all over the landscape, and by the time she is quite old, the countryside is filled with lupines. She earns the nickname, The Lupine Lady and is a beloved legend in her community.
Miss Rumphius was inspired by the true story of a woman named Hilda Hamlin, who scattered lupine seeds up and down the Maine coast. And story details about Miss Rumphius' travels were inspired by the author's real-life travels. I love the message about seeing the world, coming home, then leaving behind something beautiful for others. Something we should all aspire to accomplish.
---
A Perfect Day
by Lane Smith
2017
Roaming Brook Press, N.Y.
In this sweet story we learn how a beautiful sunny day is welcomed by a variety of characters, and what elements make up a perfect day for them. For the cat it is sitting and napping in a beautiful flower bed; for the dog it is playing in the cool water of a wading pool; for "Bert" it is filling the birdfeeder to watch the birds; For the birds it is eating the birdseed at the feeder; and for a squirrel it is munching on an ear of corn. Everyone finds contentment in different ways and is able to do so, side-by-side with out interference. But then, in walks a bear. The bear's idea of a perfect day is to roll in the flower bed, play in the wading pool, eat all the bird seed and the ear of corn, displacing all of those around him, who then retreat to a house to watch him. The storyline is sweet in it's irony and reminds us that we all enjoy many of the same delights and opportunities, just not necessarily with one another.
Smith is a master at creating collage illustrations and this book is wonderfully textural in it's presentation of the whimsical creatures. While I love the story I love the illustrations even more and enjoy studying the incredible details in each spread. This book will be enjoyed by readers age 3 to 8.
---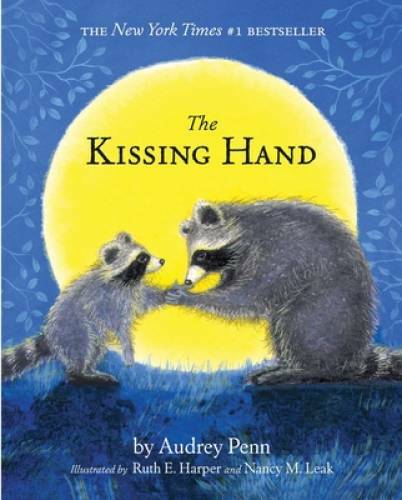 The Kissing Hand Series by Audrey Penn
1993 to present
Tanglewood Publishing
For 28 years, Audrey Penn has been helping children grow and face the trials of their lives through the stories of Chester Raccoon. Chester was first introduced to us in 1993 in the New York Times Best Seller, The Kissing Hand. The theme of this beautiful book is separation anxiety related to attending school for the first time. Any parent and child facing this inevitable moment know the heartache involved as we go through this right-of-passage. We lose our babies and begin to share them with the world and hope that we can give them the strength and courage to face the things that lie ahead. Chester Raccoon's brilliant mother has the perfect way to handle his fear of leaving her with "the Kissing Hand." She places a kiss in Chester's palm and tells him to hold it to his face whenever he needs her, and magically Chester feels the love in that kiss go straight to his heart. Likewise, Chester does the same for his mother. I remember reading this book to my granddaughter before she went to preschool and barely able held back the tears taking in this beautiful and straightforward coping strategy. Kissing our palms – she and her mother, she and I, became an empowering game. And even better, once she did begin school, her preschool teacher read this same book to the class – reinforcing that she was surrounded by love and people who would look after her. Of course, this story is a classic and will be forever cherished for many generations.
As if The Kissing Hand wasn't enough of a gift to our world, Penn and Gibson have continued to deliver additional precious Chester stories for us to enjoy. As our children grow, so does Chester, and each book in the Kissing Hand Series offers positive strategies for dealing with common childhood dilemmas. The series includes
The Kissing Hand (1993) – Illustrated by Ruth E. Harper and Nancy M. Leak (See above description.)
A Pocketful of Kisses (2006) Illustrated by Barbara L. Gibson – Chester is jealous of his young baby brother and the attention Mother Raccoon gives him. Mother Raccoon uses her kissing hand strategy to teach Chester that she has plenty of love and kisses for both her children, and each is special in different ways.
A Kiss Goodbye (2007), Illustrated by Barbara L. Gibson – Chester and his family leave their old home for a new place to live.
Chester Raccoon and the Big Bad Bully (2008) Illustrated by Barbara L. Gibson – Chester learns to deal with a bully at school and settle differences through peaceful means.
Chester Raccoon and the Acorn Full of Memories (2009) Illustrated by Barbara L. Gibson – Chester and his friends experience losing a friend and learn to deal with their grief by creating positive memories to comfort them in their time of sorrow.
A Bedtime Kiss for Chester (2011) Illustrated by Barbara L. Gibson – Chester learns to cope with his fears of nighttime shadows that keep him awake.
Chester, the Brave (2012) Illustrated by Barbara L. Gibson – Chester struggles with fear in reciting before his classmates. Mother Raccoon teaches him a "think, tell, and do it" strategy to help him to overcome his anxiety.
A Color Game for Chester (2012) Illustrated by Barbara L. Gibson – Chester overcomes restlessness and boredom by playing a color-search game.
A Kissing Hand for Chester (2014) Illustrated by Barbara L. Gibson. – This book is a rhyming board book adaptation of the original Kissing Hand book for younger children.
Chester Raccoon and the Almost Perfect Sleepover (2017) Illustrated by Barbara L. Gibson – Chester is excited to be invited to his first sleepover with friends. And while everything is fun and goes well during the day, Chester finds he can't sleep at night. His Kissing Hand helps him again until he can return home, and Mother Raccoon reassures him that home and love are never far away and always waiting for him. These books are well worth investing in and enjoyed by little ones. They are helpful and reassuring to parents as well.
---
On a Magical Do-Nothing Day
by Beatrice Alemagna
Published by Harper, an Imprint of Harper Collins Publications
2016
I love the message in this book that we can discover wonderful new beings and places in the natural world if we step outside and unplug from technology. Our minds can expand from outdoor discoveries, and we are capable of great creativity. Wild adventures can be just as much fun, perhaps more so, than those preprogrammed on our electronic devices.
In this story, a little boy and his mother travel to a cabin in the woods. The boy is sad because Dad hasn't come along, and Mom seems to be preoccupied with work (writing.) Bored and perhaps a bit down, he retreats to a sofa with his electronic game while it rains outside. His mom suggests he put down the game and go out, and he is reluctant, feeling forced to do something he doesn't want and will come to no good. Nevertheless, he does what he is told. He goes for a walk in the rain and loses his electronic game, while jumping rocks in a creek. He is in despair. Then, as if by magic the rain heightens his senses. His attention is captured by some snails. He begins to explore them and the surrounding soil. At one point, while hiking, he falls down a hill and lays on the ground staring at the world from another angle.
This new view jolts the boy's curiosity. Before long, we see him climbing trees, tasting rain, noticing bugs, talking to birds, splashing in puddles, and collecting stones. Each investigation draws him closer to nature until he feels better, happier, and changed. Eventually, he returns to the cabin and sees his mother in a new light. He enjoys a cup of hot chocolate with her, wanting to tell her of all he has found, but instead, they sit quietly and just savor one another. His time in the outdoors has made him happier and more aware of all that is good around him.
Ms. Alemagna's illustrations are detailed and mystical, conveying the grey feeling of a rainy day and how one might feel in such weather. I particularly love how the little boy wears a neon orange jacket throughout the story, making him stand out in his dark grey environment. The orange is such a happy color and, to me, symbolizes that we each carry our own happiness within us, but we must choose to wear and feel it.
---
The Old Truck
by Jarrett and Jerome Pumphrey
Published by Norton Young Readers, an Imprint of W.W. Norton and Company
2020
I grew up and currently live in Western Illinois, which is a predominately agricultural landscape. Though I was raised in a city, many of my family members lived on farms. Farm life was in my family's lifeblood. For the better part of my adult life, I chose to live a country life. These were blissful years filled with sweat and struggle spent mowing, weeding, planting, clearing brush, and raking — countless hours of labor spent on shaping the land to a vision. It was there that I taught myself to garden, can fruits and vegetables, dry flowers and herbs, raise chickens and ducks, and forage for wild edibles. These were golden days of living close to the earth that I will always cherish. So when I recently perused my local bookstore and spotted The Old Truck, I had to pick it up, and in seconds, it tugged at my heart.
This first book by brothers Jarrett and Jerome Pumphrey tells the story of a pick-up truck and its hard-working days on a small family farm. The old truck is an essential tool on the farm — alive and heroic in the eyes of a little farm girl. It is so integral that the little girl imagines she and the truck sailing on the seas as a ship or conducting lunar exploration as a moon rover. As the little girl grows up, we see the truck grow older and eventually fall into disrepair, becoming inoperable and left to rust, consumed by winter ravages and growing weeds. The little girl grows to womanhood then takes her turn at running the family farm. She is focused and driven but in need of help in pursuing her life's vision. The old truck is just the partner she needs. She restores the truck offering it new life on the farm with her growing family. Together they propel the farm into a new generation.
I particularly love that the book depicts a family of African-American farmers, something seldom seen in children's books. We see that the future of the family farm rests in the hands of a young woman. The authors dedicated their book to the strong women in their family. Their mother juggled raising a family while running a business and their great-grandmother purchased a farm with money earned from picking cotton. With few words and intricate stamped art illustrations, this quiet story reminds us that many of the sweetest things in life don't come easily. The wonderful foods we eat come from the vision, persistence, and toil of the world's farmers, who rely heavily on willpower and the tools of their trade, including their old trucks.
---
Woodland Dreams
by Karen Jameson with illustrations by Marc Boutavant
2020
Chronicle Books, San Francisco
Get ready to snuggle up with your little one and lullaby them to sleep with the sweet lyrical text of this gorgeously illustrated bedtime book. It is a late autumn day, and the chill of cold winter is in the air as a small girl, and her dog go on an early evening walk through the woods. During their walk they discover that the natural world around them is preparing for deep winter sleep. A delightful variety of woodland creatures scurries off to settle into hibernation. The little girl makes notes and sketches of the animals she sees throughout her walk, arriving back home at dusk, just as snow begins to fall. The dark stillness of the forest, falling snowflakes, warm glowing lights of the family cabin, and Dad quietly waiting on the porch, convey it is time for the little girl and her dog to come in and prepare for their own bedtime.
Children will love the beautifully detailed images and studying the diverse woodland animals and their homes. The illustrations and text left me feeling as if I too, had walked through the woods. The book's end pages feature the little girl's sketches of all the animals encountered on her walk — a nice finishing touch. I love that this book shows a child quietly and intently journaling and sketching her environment's details. Woodland Dreams celebrates the beauty of autumn as it slips into winter and the delicious comfort of good sleep.
---
Outside In
by New York Times best-selling author Deborah Underwood
Illustrated by Cindy Derby
2020
Houghton Mifflin Harcourt Boston New York
I just can't love this book enough. This one is definitely going on my favorites shelf. In this highly clever book, Underwood and Derby show the outdoor world is ever- present in our indoor lives. The lyrical text and richly colored mystical images illustrate how light, plants, insects, shadows, outdoor sounds, rain, temperatures, water, food, and fiber, even the views from our windows, are ways the natural world permeates our daily existence and connects us to a larger universe.
The overall concept, text, and visual storytelling of this book are just brilliant. While I consider myself an outdoorsy person, I appreciate how this book reminds us of the many ways we are connected to the external world — a world much larger than ourselves — a world we can never truly hide from. I happened upon this book during a polar vortex, after spending far too many days indoors. Outside In helped me to remember that no matter what the weather may be, the outside world can still deliver its magic to me when I'm indoors.